Extreme Hockey Shooting Pad 24"x48"
$89.95 CAD $99.95 CAD
Unavailable
Save your stick from wear and tear while practicing your shooting skills Great for anyone looking to improve their on-ice game, our shooting pads mimic the feel of real ice and can help you work on your wrist shots, snap shots, slap shots, and backhands. Ideal for practice at home, our training mat helps protect your hockey stick from getting damaged by the concrete or asphalt in your driveway or basement while working on your passing, shooting, and stick handling skills. Our shooting pad is lightweight, features easy-to-grip handles that makes it easy to carry and is treated with a weather-proof UV coating that allows for use both indoors or outdoors, all year round. Ultra durable, weatherproof design An awesome training board made of ultra durable, weatherproof materials treated with UV protection, you will be impressed at how long our shooting pads last. Our training aids are designed for year-round use anywhere indoors or outdoors, and are great for off-season training off-the-rink. Great for both amateurs and professionals alike, our training aids are used by over 100 NHL players all over the world. Great for hockey players of all ages Our Pro Shooting Pad is a great training aid for both kids and adults to use,, our hockey equipment, synthetic ice tiles, and training gear provide the perfect way to work on shooting, stickhandling and passing skills at home. Our products are always tested and manufactured in Canada, and we guarantee that you will be impressed for years.
BEST VALUE & QUALITY: our premium Better Hockey Shooting Pad is the best value & lowest cost on Amazon today. Size 24 x 48 inches. We found the perfect additive to simulate the feel of real ice
PRACTICE ANYWHERE & ANYTIME: thanks to UV protection and weather proofing treatment it allows for use indoors or outdoors all year round. Easy to carry with our user-friendly carrying handle
ENGINEERED TO LAST: at 3/16" this top-quality shooting pad is thick enough to give a smooth feel even on the heaviest slap shots. Tested and manufactured in Canada. You will be impressed for years
IMPROVE STICK LIFE: not only will you improve your stickhandling, shooting & passing skills, but also improve your stick life from rough concrete, asphalt and hard surfaces when practicing at home
USED BY THE PROS: more than 100 NHL players, many of the best prospects in the world and tens of thousands young hockey players use this amazing hockey training aid during their summer training
}div>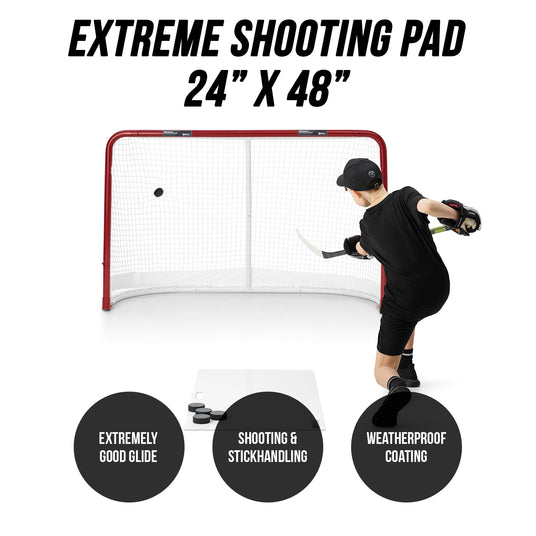 TECHNICAL SPECIFICATION
This easy to carry 120x60 cm / 24"x48" pro hockey shooting pad is the perfect surface to help develop your game skills at home. Simulates the feeling of real ice.
Size 24"x48"
Built in handle
Extremly good glide
Works well with ExtremeShooting Pad